A number of world-class celebrities have expressed their support and encouragement for Morocco's national football team and celebrated their achievements at the ongoing Qatar World Cup, notably their qualification for the semi-finals.
The Atlas Lions again made history in Qatar after beating European football giant Portugal on Saturday and clinching their first-ever qualification for the tournament's semi-finals.
Colombian singer Shakira hailed Morocco's latest World Cup win. "This time for Africa," she tweeted, referring to her famous South Africa World Cup 2010 song "Waka Waka."
In addition, entrepreneur and billionaire Elon Musk took to Twitter to celebrate the Atlas Lions' victory. "Congrats Morocco!!," he wrote.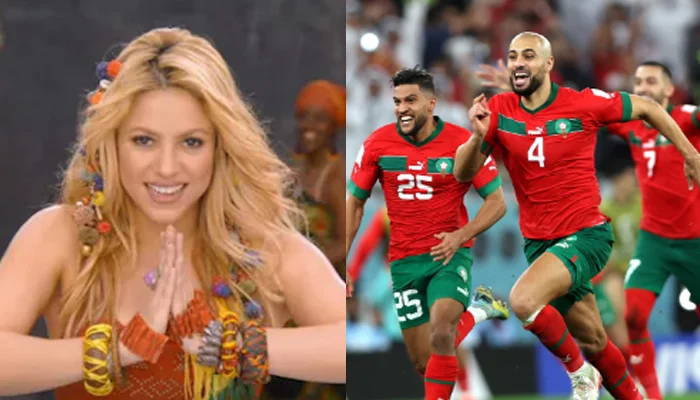 Describing Morocco's World Cup victory as a "historic moment," CEO of Google Sundar Pichai also congratulated the national team on their historic World Cup heroics.
Watching the scenes in Marrakech (one of the most beautiful cities that I have been to) is amazing. Historic moment – first African country to make it to the semis – Congrats Morocco!

— Sundar Pichai (@sundarpichai) December 10, 2022
Brazilian football legend Pele congratulated Morocco's national football team for their historic World Cup run at Qatar, and lauded superstars Lionel Messi and Kylian Mbappe.
In an Instagram post celebrating some of the tournament's best stars and teams, including newly crowned world champions Argentina, Pele did not fail to pay tribute to the Atlas Lions' performance, writing: "And I couldn't fail to congratulate Morocco for the incredible campaign. It's great to see Africa shine."
American film director, producer, and actor Shelton Jackson, commonly known as Spike Lee, posted Morocco's flag to Instagram with a caption saying: "Morocco sends Portugal home and becomes da (the) first African nation to make [it to] da (the) World Cup semi-finals.
While celebrating his country's qualification for the semi-finals, French fashion designer Olivier Rousteing also expressed his "pride to see Africa/ Morocco closer to the finals." He said: "This is a real shift to the HISTORY and we should all be aware of the importance of this moment.
Moroccan-Swedish singer-songwriter and producer Nadir Khayat, better known by his stage name RedOne, attended Morocco's matches at the World Cup and offered his unconditional support for the Atlas Lions.
read full article sy MWN's Sara here
Gad Elmaleh: Morocco's World Cup Achievement 'Transcends' Football
While celebrating winning World Cup matches, the Atlas Lions represented shared values of strong family bonds that reflect Moroccan values.
Morocco's achievement in the World Cup this year "transcends football as a sport," Moroccan-Canadian comedian and celebrity Gad Elmaleh said. "We showed the world our values as Moroccans."
Speaking in an interview with French television channel Tele Loisirs, Elmaleh said that watching the Atlas Lions in the World Cup moved him deeply, as he felt they were representing values that Moroccans all across the world share. "When I see pictures of the celebration with mothers and fathers, it makes me cry."
The celebrity added that what the Atlas Lions achieved gave a sense of pride to Moroccans. "It is a feeling that has gone beyond football as a sport, and I am very proud that I am Moroccan," he added.
Their celebrations were "beautiful" and "fraternal," he stated. "When the players go to their fathers, and take their mothers inside the stadium, to celebrate with them, it is wonderful for me."
The comedian was moved by what he saw, "I start crying because it is the values I was brought up with, and the values of all Moroccans when you shine the light on your parents while you are playing a match in the World Cup. This means that you have reached the pinnacle of your career," he concluded.
Following their multiple wins in the World Cup, the Atlas Lions captivated audiences with their unique way of celebrating. Moroccan players were spotted frequently bringing their mothers to the football pitch to dance and embrace while celebrating their wins.
read full article vy MWN's journalist here
back to sections : agadir dmc, morocco, hotels morocco, tailormade tours morocco, morocco excursions, marrakech event planner, bespoke travel morocco