Morocco is a competitive MICE destination. Marrakech was always taking the lead among other cities of Morocco such as Casablanca, Rabat, Tangier anad Agadir. But nearly 15 years ago, when Marrakech became one of the most wanted leisure and events cities of the world, the red city knew lots of new openings including luxury hotels and riads offering wonderful venues which is allowing Morocco to offer unparalleled event experiences that leave an indelible imprint in the memory of every visitor. With its outstanding architecture, ornate detailing and distinguished art, Morocco is an adequate place for a variety of events. The private venues offer exclusivity and privacy and the landmark venues reflect the history and traditions of Morocco. Moroccan venues are best places for product launches, shootings and also filming. below few of best event venues in Morocco: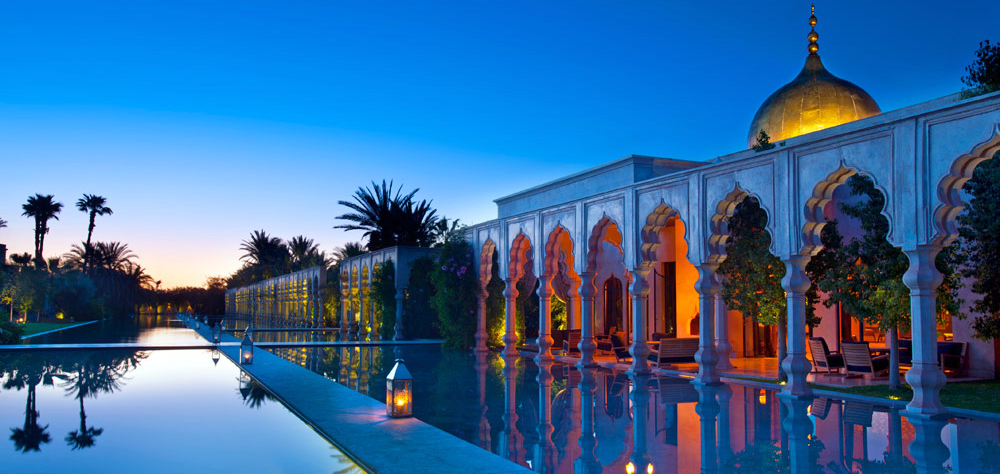 MARRAKECH VENUES
Royal Mansour Marrakech
An architectural masterpiece with an unrivalled range of luxurious function spaces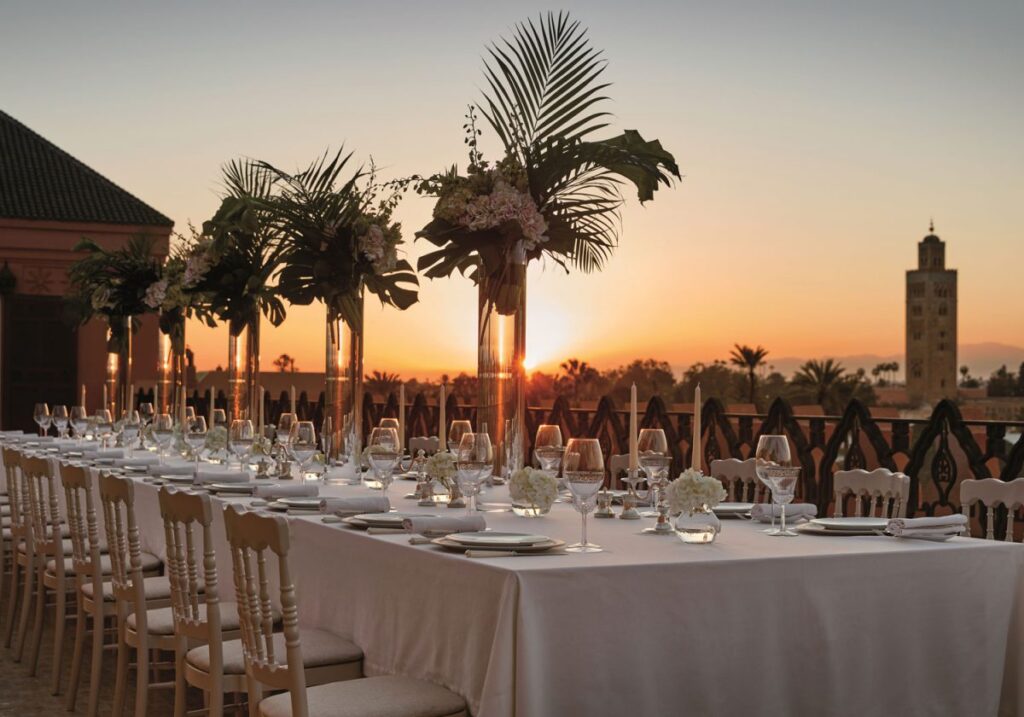 The Royal Mansour can be counted amongst the few establishments in the world that defy hotel excellence. Just a few steps away from the famous Jemaa El Fna square beats the heart of the Marrakesh Palace, offering travellers the unique concept of a medina within a medina. Each area has been designed to intuitively take guests on a sensory journey. Take a step into the secret and sumptuous history of one of the most beautiful hotels in the world.
The Royal Mansour Marrakesh is one of the most exciting places in the imperial city to organise all kinds of private celebrations. From a private banquet to a spectacular gala evening, festive birthday or relaxing brunch; the only limit is your imagination. If you plan your event at the Royal Mansour, you will be guaranteed a private reception held in a setting like no other in the world.
Sheltered in the Royal Mansour gardens, the business lounges welcome you for your professional meetings in Marrakesh. A subtle balance of volumes, woodwork and high-tech devices will enhance your conferences, seminars, company meetings and formal or informal work gatherings. Excellence and personalisation in every gesture form the spirit that will characterise the organisation of your professional event at the Royal Mansour.
The most prestigious weddings in Marrakesh have taken place at the Royal Mansour. A wonderfully romantic setting, unique culinary experiences and magical set-up; all the ingredients to organise a perfect wedding in the palace. The riads, secret dwellings that exude luxury living around their patios, also offer a glamorous refuge for your dream event. The majestic view of the Atlas Mountains, dimmed lighting, floral compositions, attentive service; everything down to the last detail celebrates elegant and loving romance.
La Mamounia Marrakech
Seminars, meetings, cocktail parties, dinners, birthdays, weddings… La Mamounia provides a refined and authentic setting for all your private events and celebrations.
Seminars
To organise your conferences and seminars, La Mamounia offers a vast 450 m² room and a more intimate business centre where you can accommodate up to 40 guests.
The Grand Salon
Capacity: 300 people
Surface area: 450 m²
Setting: spacious yet cosy
Advantages: the Grand Salon can be divided into three areas of 150 m² each.
The Business Centre
Capacity: 10 to 40 people
Surface area: 80 m²
Setting: a comfortable area in the library, ideal for lunches and meetings with few guests.
Advantages: decor, equipment and natural light.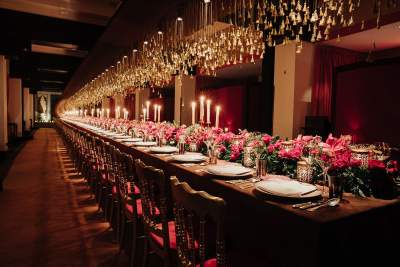 Organise weddings and receptions in Marrakesh
To celebrate life's most special occasions – weddings, birthdays and parties – La Mamounia can be fully privatised and brims with enchanting spaces that will contribute to making these events truly unforgettable.
In coordination with our teams who are attentive to every detail, dream up a wildly romantic wedding proposal in the gardens, a musical birthday party under the tent of Le Marocain restaurant, or a lavish cocktail party on the black and white Patio.
Our teams are available to plan your ideal celebration in a magical setting steeped in history and splendour.
The Oberoi Marrakech
From lavish personal celebrations to high profile corporate functions, The Oberoi, Marrakech has a venue to suit and the dedicated service to make your event an unforgettable success.
Invite your guests to the Ochre City of Marrakech and let us make your occasion the best it can be, against a backdrop of traditional architecture, and panoramic views of the Atlas mountains, orchards and gardens. Be it a birthday party, an engagement or a wedding for up to 800 guests. Simply take your pick of our indoor and al fresco function areas. You can leave the rest to us.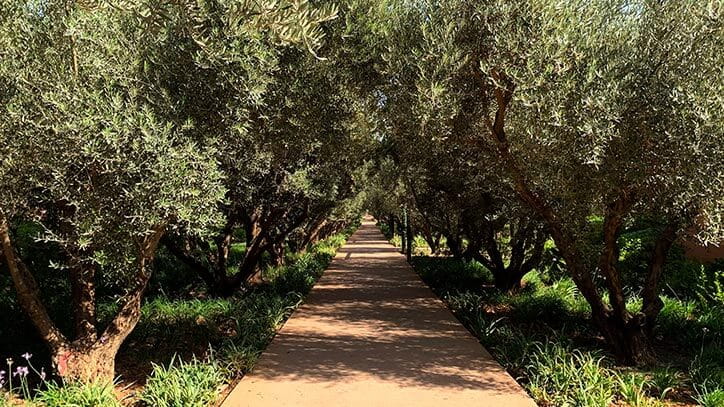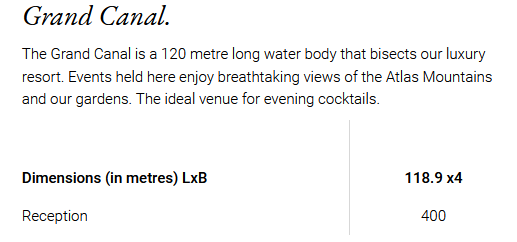 Fairmont Royal Palm Marrakech
Fairmont Royal Palm Marrakech offers an enviable array of venues for successful corporate meetings and professional conferences. Flexible outdoor spaces are a must for an alfresco evening break or cocktail offering you a real and authentic experience.
Fairmont Royal Palm Marrakech offers an enviable array of venues for successful corporate meetings, social events or lavish weddings.
Palm ballroom : Spanning over 600sqm and seating up to 600 guests, the Palm Ballroom is elegantly designed to accommodate tailored events ranging from intimate gatherings to lavish receptions. Bathed in daylight with its 600sqm lush outdoor space, the versatile ballroom offers breathtaking views of the Golf Course and the majestic Atlas Mountains.
Conference room : 125 sqm – Up to 100 persons in reception style
Board room : 55 sqm – Up to 20 people in conference style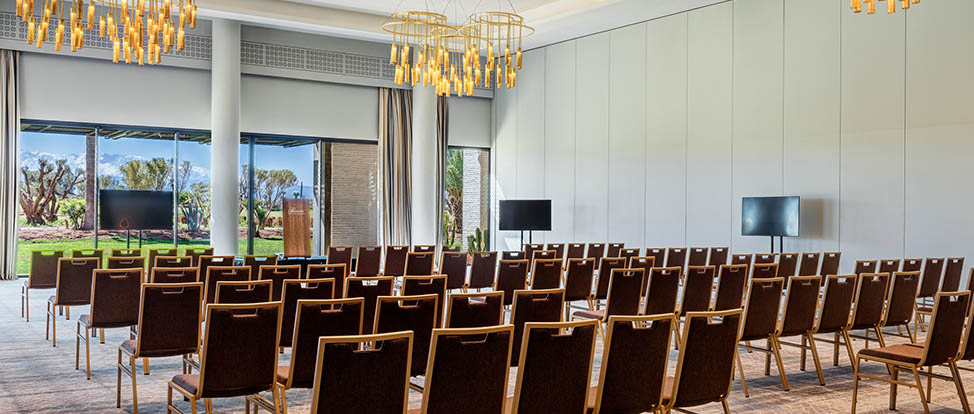 Four Seasons Resort Marrakech
EVENTS : When you plan your event at Four Seasons Resort Marrakech, you can rest assured that your guests will leave with memories to last a lifetime. Our indoor and outdoor function spaces offer authentic Moroccan elegance, while our culinary staff can craft a menu of authentic dishes to spice up your banquet or gala.
MEETINGS : Meetings at Four Seasons Resort Marrakech combine Morroco's unique culture with our signature service and hospitality. Host a keynote presentation in our elegant ballroom and throw a garden party for your most valuable clients and employees.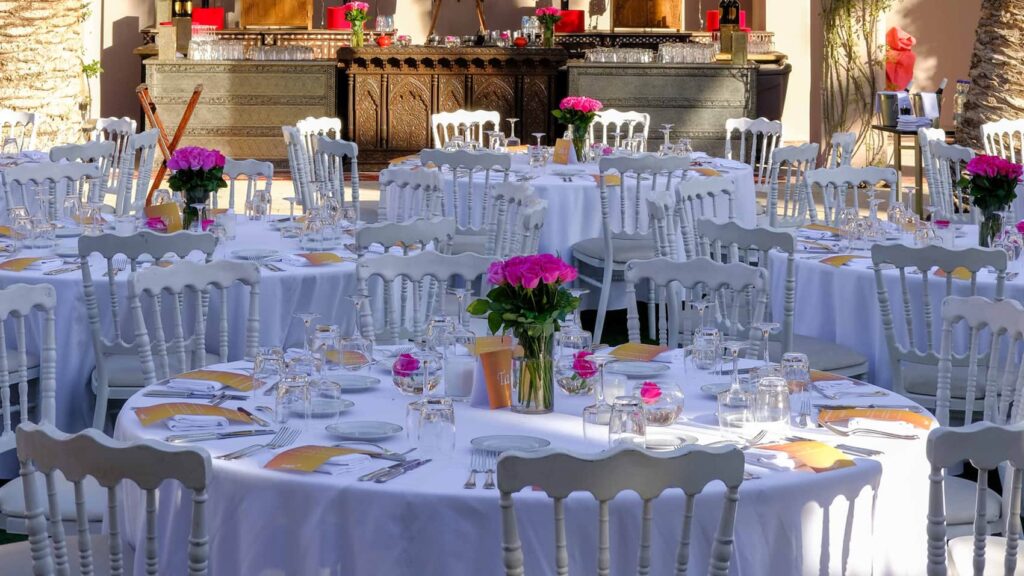 Versatile Venues: Host a conference in one of the city's largest ballrooms or perhaps a welcome reception in the private garden. Entertain important guests in the Cigar Room. Or host a breakout session in one of our smaller venues. Our function spaces are designed to fit any meeting need.
Garden Delights : Reserve Le Grand Jardin for an al fresco reception or banquet surrounded by palm trees and lit by lanterns. The adjacent Agdal Ballroom can be used separately or in conjunction with Le Grand Jardin. Le Petit Garden makes a perfect choice for a more intimate outdoor event.
Wedded Bliss: Plan your destination wedding with us. Our experienced staff can take care of every detail – from decorations to the menu. Our on-site venues range from a formal ballroom to a picturesque garden.
Spectacular Soirées: The rooftop of Bleu d'Orange, located in the heart of the Resort, is an ideal venue for group dinners. Guests can look upon our gardens in bloom and the Atlas Mountains in the distance while enjoying their meal.
139 Accommodations: Each of our modern Moroccan guest rooms and suites is complemented by a private terrace or garden, where your attendees can relax before or after a day of meetings and admire our pools, gardens and the snow-capped Atlas Mountains.
International Cuisine: Our catering staff will work with you to match the food to your event's theme. Choose from traditional Moroccan, classical Italian, seafood or even Cuban or Indian, among other cuisines.
Sofitel Marrakech Lounge & Spa
Embark on a Magnificent trip to the Sofitel Marrakech Lounge & Spa, that combines contemporary designs with French elegance. Enjoy a restful stay, and experience well-being at this haven of peace of mind in the heart of Ochre City. Life is wonderful in Marrakech.
Invite your guests to discover Marrakech in the most dazzling way. At the Sofitel Lounge & Spa, you will enjoy the best of the City of Lights. With Starred restaurants, grand meeting rooms, sumptuous reception areas, and fine dining services. All in a unique Art Deco setting, a few steps from the most fascinating tourist sites.
Room Capacities : 158 : Event total space : 1238 msq : Meetings & food spaces : 17

The Majorelle is an interchangeable room with triples the option. First let us show you the : Majorelle 1 has a terrace with daylight and is equipped wich video projector, projection screen attached to the ceiling and…
This meeting room has a 140 m2 surface area with a 5 m ceiling height.
Theatre style : 92 ; U – shaped room : 34 ; Board room : 32 ; Classroom Style : 48 ; Banquet : 90
The Menara room with a video projector, a projection screen attached to the ceiling, then a podium with a standing desk, a sitting desk, and access to Wi-Fi.
This meeting room chas a 200 m2 surface area with a 5 m ceiling height.
Theatre style : 180 ; U – shaped room : 32 ; Board room : 32 ; Classroom Style : 60 ; Banquet : 100
The Koutoubia took its name comes after the most popular monument in Marrakech. The Koutoubia meeting room is meant for your more intimate meetings. Therefore we have located it in a space in the upper lobby, and equipped it with a private…
This meeting room chas a 36 m2 surface area with a 2 m ceiling height.
U – shaped room : 32 ; Board room : 32
So Lounge : The avant-garde architecture of this room makes it an exceptional place. With its theatre scene and sound system, no presentation will go unnoticed.. that we can promise !
This meeting room chas a 342 m2 surface area with a 5 m ceiling height.
Theatre style : 200 ; Board room : 200
Sophisticated meeting rooms that inspire and uplift. Elegant wedding venues that enchant and delight. Sofitel makes every occasion cause for celebration.
For your private celebration as a family or with your company.
Riad EL FENN Marrakech
One of the few large riads available for private exclusive hire in Marrakech. Between our courtyards and roof top, there are many different ways in which you can celebrate and every event we host is as unique and beautiful as El Fenn itself. Think roses, candles and sunsets, all wrapped up in El Fenn style. Gnaoua music and snakes charmers are optional.
Some of our most special memories are of the weddings we've hosted here and the guests who leave as friends. We only hold a limited number each year and every one is unique thanks to our in-house team who'll work with you on everything from menus to flowers and decoration to make sure your day is perfect.
and many more on request …
AGADIR VENUES
Tikida Golf Palace
The concept Tikida Business makes your event a special moment.
Total number of meeting rooms1Total event space460 sq mTotal meeting room capacity1 meeting rooms holding 100 people
Experience the unique Tikida Golf Palace-Relais & Châteaux, exceptionally located on a golf course of 120 hectares
Our 2 18-hole golf courses for the enjoyment of lovers of this sport of legends. Everything is designed to awaken your senses and rest your body. Our mission is to reveal to you the secret of an art of living.
Les Dunes D'Or conference room
Located opposite Agadir Beach, Les Dunes d'Or Hotel SPA features an outdoor swimming pool with sun loungers and a spa. It offers rooms with a balcony and a view. and the largest event venue in Agadir :
Meeting Capacity: 3 meeting rooms holding 1,000 people
back to sections >> tour operator agadir, Travel agency Agadir, Morocco, Morocco booking, agadir hotels, Morocco trip, events agadir, trip agadir, desert morocco, Tafraout tour , Marrakech luxury hotels,